Submit Your Ideas
All Creators & Ideas Welcome

Realise Your Release!
So, you have an idea for an effect you want to share with the magic community?
Have dreams of seeing your product listed in our latest release column?
Your face on a trailer!?
Your name in lights on the Magic Cafe?
The step up from performer to creator is a truly magical one - and - creating effects can become a wonderful addiction, let alone a neat side hustle. It can also be a little overwhelming with so many people out there telling you to talk to so many different people - we know.
Releasing a magic trick is pretty badass and Saturn Magic have been doing this for ten years! We, absolutely know a good trick when we see one… So, Submit your idea in the strictest confidence to our creative team using the email address below, providing a full perfomance video and explanation of your effect:
SUBMIT YOUR TRICK TO
Creative(at)saturnmagic.co.uk
We'll combine over 75 years in magic to determine whether your idea is something we see potential in releasing, is suitable for the real world, is original, and, if it will appeal to our magic-hungry customers. Good Luck!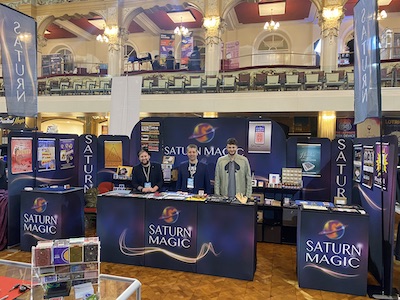 Why Release a Trick with Saturn Magic ?
WE PROMISE THE BEST DEAL FOR YOU.
We offer both one off payments and profit share deals ensuring you reap any financial reward your product deserves in the fairest possible way.
WE COVER ALL ASPECTS OF THE RELEASE OF YOUR PRODUCT.
Saturn Magic's Workshop is becoming a bit of a phenomena in the magic world based on the diversity of products we create. We do 3D Printing (filament and resin), CNC Machining, Laser Cutting and 3D CAD Design. We pride ourselves on doing all of our own manufacturing…. So if something CAN be done we WILL find a way. We'll also cover graphic design, marketing, distribution, sales, packaging, trailers and tutorials.
WE WILL PROMOTE THE HELL OUT OF YOUR PRODUCT.
Unlike other dealers, you won't see your product linked in and email once and then forgotten about forever. If we love your product enough to release it then we will support it indefinitely. Just some of things you can expect from Team Saturn as standard are:
A feature length Facebook Live Show
Creator Interview(s)
Sponsored Posts and Advert on the Magic Cafe
Regular Social Media Highlights
Demming at Dealer Days and Conventions, like The Magic Circle and Blackpool
Long term customer support of your product
WE WORK WITH CREATORS NOT FOR.
As the artist of an original effect we believe that YOU should be at the forefront of YOUR release and that the product should reflect your aspirations and identity.
We will team up with you to brand your release and produce a truly awesome trailer, making you the star of the show (should you want the limelight). We are professional Magicians ourselves and will personally work any releases at gigs in order not only to determine the best handlings and routines but acquire the performance footage to sell it.
Check out two of our latest trailers to see the work we put in to giving our artists products the launch they deserve: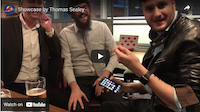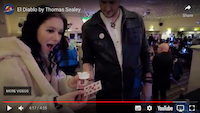 5. WE ARE ALL CREATORS OURSELVES.

Apart from being the UK's fastest growing Magic Shop, within ten years we've released over fifty outstanding, real world products, used by both professional magicians and hobbyists over the world.
Put simply, we absolutely love making magic tricks. Not just making, but performing and working them.
Meet Saturn's Artists

The Saturn Magic founder himself Mark Traversoni has contributed over twenty published products to the community. it started off with his adaption of the Classic Haunted Deck before going on to solve the pocket space issue for magicians all over chew world with his legendary Card Scarf. In recent days, he's more known for making decks of cards made from real wood and hand crafting Mental Dice Cubes for Magicians all over the world. Mark is a craftsman and if something is possible to make he will find a way.
Kieron Johnson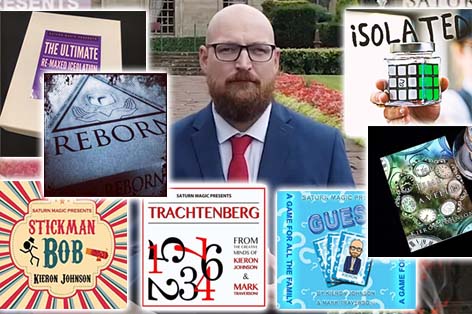 Kieron Johnson broke the mould when it came to ice magic and his Remaxed Iceolation (Signed Card In Ice) and Reborn (Ice from Fire) products are now famous to all magicians across the globe. He'd go on to write a book and release a prolific number of famous effects like Stick Man Bob before teaming up with Mark Traversoni to put a Signed Rubik's Cube in a Jar

iNFiNiTi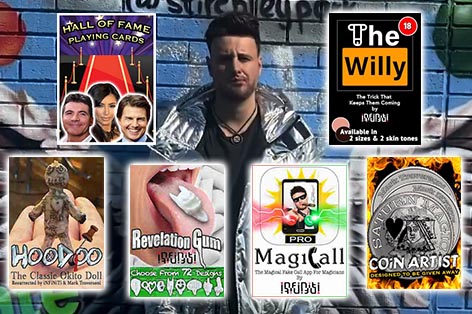 Perhaps just like you, Mark iNFiNiTi first came to Saturn Magic in 2018 with an idea to turn chewing gum into impossible shapes and the rest is history. His debut release of Revelation Gum received so much adoration the range of gimmicks was expanded from 8 to 72!!! In 2019 he returned to Saturn to release the notorious Magicall Fake Call App For Magicians before joining Saturn's Creative Team permanently. He now has six outstanding releases to his name and is the beating heart of our Product Development Team.
Lord Harri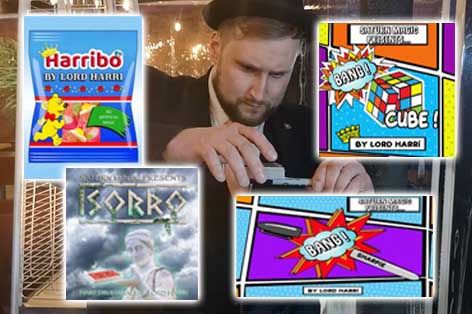 Lord Harri is yet another artist who made his name with Saturn Magic, gracing/annoying the world with his infamous Bang Sharpie. A debut Blackpool sell-out, he returned with the Bang Rubik's Cube before co-creating an impossible balancing effect and everybody's favourite ring transposition with Harribo sweets - yet another Blackpool sellout in 2022! Harri is now a permanent member of our Creative Team.
Saturn Magic have teamed up with another ten artists from the U.K. Europe and America in the last couple of years alone, putting out some wonderful effects you'll be familiar with under the Saturn Magic Presents Brand, standing for original, entertaining and workable magic.
Are you ready to become one of Saturn's Artists and realise your dream of releasing a brilliant magic effect to the magic community that ticks every box?

We have our wands crossed!

Get in touch today and if your idea is good enough we'll do our absolute best to make it a reality.
SUBMIT YOUR TRICK TO
Creative(at)saturnmagic.co.uk